Preparativen Newcomer Festival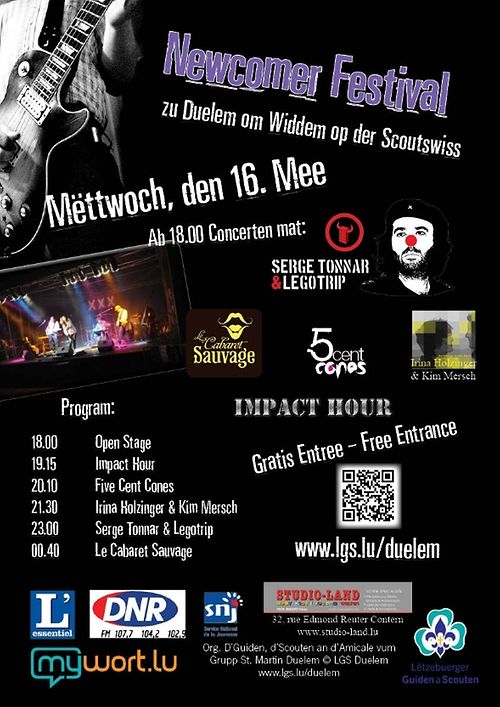 Picture Gallery
Please scroll down,
to see more pictures.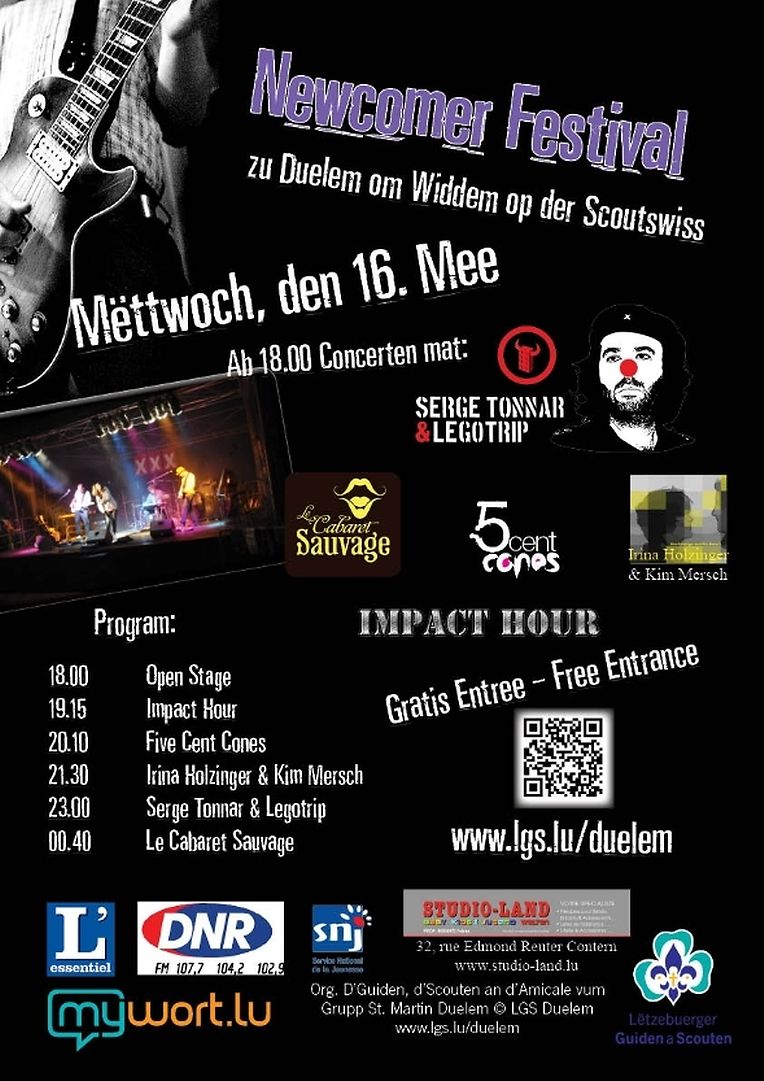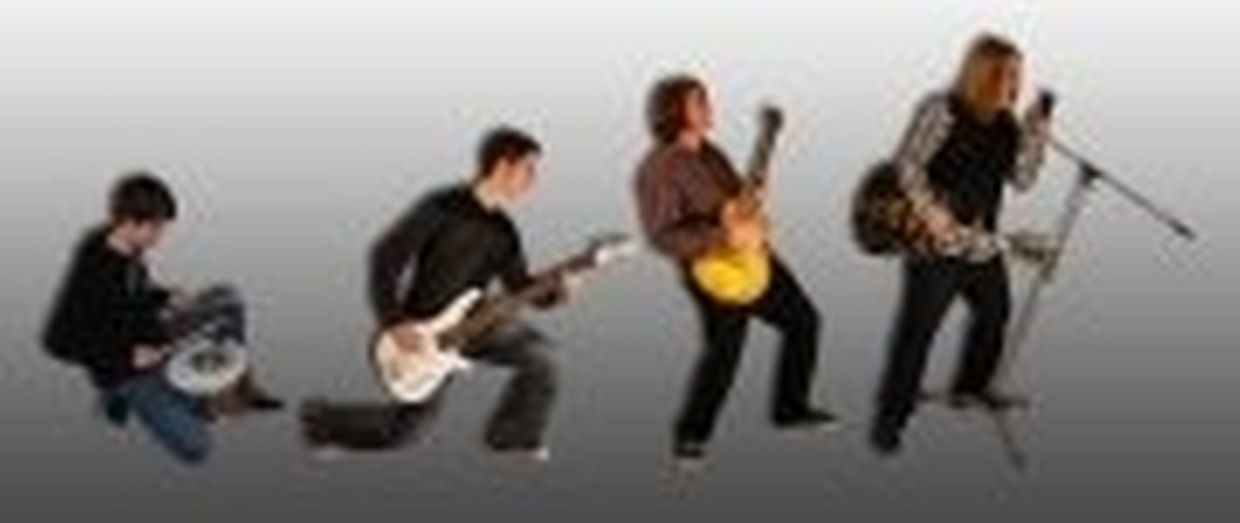 Wei och lächt joer organiseiren Duelemer Guiden a Scouten dëst joer hieren Newcomer Festival. Preparativen fir dësen Flotten Festival sinn schon gudd amgaangen, an dir wäert an deenen nähsten deeg och an äeren breifkeschten resp. op evenementer e flotten Flyer kreien.
Et ass den 16ten Mee (Virowend vun Christihimmelfahrt) zu Duelem (bei Mondorf). Et ass een Open Air Festival, an wei sai numm et schon seet ass eis Ziel den Jonken Musik Gruppen eng gelegenheet ze ginn sech bekant ze maachen.
Et Spillen 4 Nei Musikgruppen um Festival, an fir sie ze ennerstezen an och een Publikum ze bidden spillt den Serge Tonnar als Headliner. Dobei ass den Festival Entree Frai fir esou och dem Publikum entgeint ze kommen an jidferengem gelegenheet gin dei Gruppen ze entdecken.
Dëst Joer gesait den owend esou aus:
19.15 Impact Hour
20.10 Five Cent Cones
21.30 Irina Holzinger & Kim Mersch
23.00 Serge Tonnar & Legotrip
00.40 Schëppe Siwen
Regelmeisseg wäert dir hei op Mywort informeiert ginn, an och eppes zu vun den Verschiddenen Bands gewuer ginn.
Hei eng kuertz presentatioun vun der eischter Band Impact Hour....
Impact Hour is an alternative punk rock band from Luxembourg. Their musical influences varies from the darkest black metal to the greatest rock bands.
The band was founded in the summer of 2010 as a school project. At first, we didn't quite know which music genre we wanted to play because our musical influences and interests were as wide as the horizon.
Almost a year of rehearsals, discussions, different name-suggestions and many beers later, we played our first gig @ Exit07 under the name "The Ties".
After this first show we realized that this wasn't a school project anymore, but that we wanted to become a real band and decided to change our name, get our own "Proufkeller", play more shows and write as many songs as possible.
In the fall of 2011, we released our first demo tape on YouTube entitled "Sex Sells, Business Kills", one of our first songs.
Then everything went pretty fast: 2 awesome shows @ The "Schwarze Sall" in Hollerich, an opportunity to be signed under "White Sheep Records" and also a confirmed show @ the 2012 edition of the "Fête de la Musique in Dudelange"!
In March 2012, Denis, their new, young and talented drummer, joined the band.
Also, Impact Hour is a part of the ID-Project 2012 and will perform the song "Sex Sells, Business Kills" for these special occasions in February and March 2012.
In 2012, Impact Hour started making Youtube Videos and Films, another passion of theirs, which is surely a thing they will continue in the future.
In April 2012, they started rehearsing with Denis and finally played their first gig with their new drummer on April 21st in Rumelange.
In May 2012 they will perform at the Newcomer Festival in Dalheim and in June 2012 they will perform at the Screaming Fields Festival, where they hope to win some prizes ;)
Mir Freen eis sie an iesch kennen de 16ten Mee um Virowend vun Christihimmelfahr ze begreissen, an an deenen nähsten wochen gidd kritt dir hei nach dei aaner gruppen virgestallt.