Concert 60 ans annulé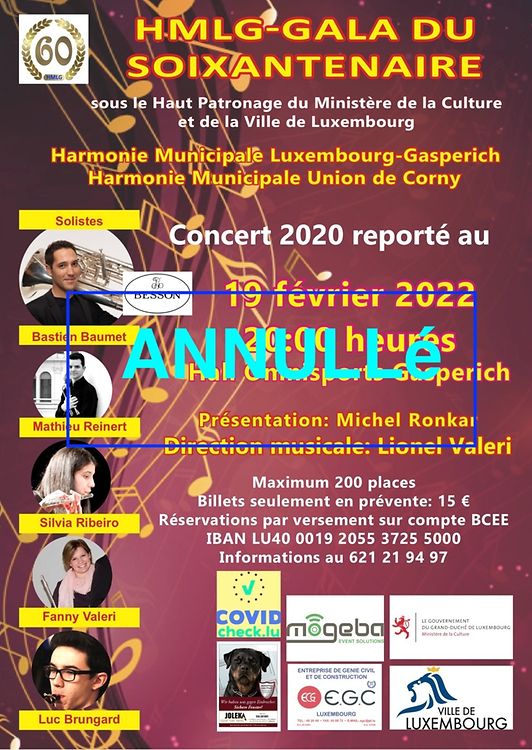 Bonjour Mesdames et Messieurs,
Nous avons le regret de vous informer que notre concert prévu pour le 19.02.2022 doit à nouveau être annulé.
Les personnes qui ont payé les tickets d'entrée peuvent demander le remboursement ou
garder le ticket d'entrée pour la prochaine date du concert, qui sera informée à une date ultérieure.
Merci pour votre compréhension et de soutenir notre Harmonie
Pour le Conseil d'Administration
Marianne Degregori
Présidente HMLG
P.S. : en cas de remboursement, veuillez nous faire parvenir vos coordonnés bancaires par
SMS, WHATSUP 621219497 (Marianne Degregori) ou par email harmoniegasperich@yahoo.de
Ladies and Gentlemen,
We are sorry to inform you that our concert foreseen on 19.02.2022 has to be cancelled and scheduled on a later date.
If you have already bought a ticket you can either
1. Request de money back or keep it for the later date of our concert
2. Or keep the ticket for the later date to be advised
Thank you for your understanding and supporting our music association Harmonie Gasperich
For and on behalf of the board of the committee
Marianne Degregori
PS: Should you request the money back please let us know your banking details,
by SMS, whatsup on 621219497 (Marianne Degregori) or by email harmoniegasperich@yahoo.de